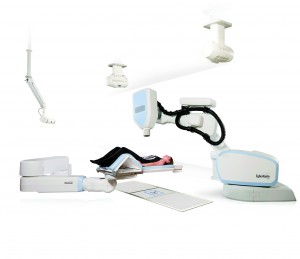 Deciding where to undergo cancer treatment can be difficult, and it's important to know your options so you can make the best choice for you. Phoenix CyberKnife and Radiation Oncology Center is an ideal option for Phoenix residents and those in neighboring states who are seeking the most advanced treatment options available for a variety of cancers.
Why Choose Phoenix CyberKnife and Radiation Oncology Center?
Our center offers state-of-the-art technology for radiation and surgery. In fact, many travel far to receive the CyberKnife Radiation Treatment, but Phoenix residents have access to it right in their home state. Traveling can be an added stress when undergoing treatment, so patients generally prefer to be close to home where they feel most comfortable.
At Phoenix CyberKnife and Radiation Oncology Center, we treat a wide variety of cancers through the CyberKnife Treatment, surgery, chemotherapy, and more. Cancers we treat include:
Brain tumors

Head and neck cancer

Spine cancers and other spine conditions

lung cancer

prostate cancer

liver cancer

pancreatic cancer

kidney cancer

breast cancer

skin cancer
What Sets the CyberKnife Treatment Apart?
The CyberKnife Treatment is a non-surgical, non-invasive radiation therapy treatment. Using advanced robotic technology, the CyberKnife System sends high doses of radiation to tumors while avoiding exposing the surrounding tissue and organs to radiation. With pinpoint precision and sub-millimeter accuracy, the CyberKnife System tracks the natural movement of tumors and adapts to their position in real time, thus effectively treating the tumor while minimizing any risk of radiation side effects.
Since the CyberKnife Treatment is non-surgical and non-invasive, it allows patients to return to their normal activities right away without the necessity of a hospital stay. The CyberKnife Treatment takes 1 to 5 days, and in-between treatment sessions patients can leave and continue to go about their regular day.
For More
We believe that the more patients know about their treatment options, the more empowered and confident they will feel. Our website offers informative videos, introduces our physicians, answers frequently asked questions, and much more. Check out why the CyberKnife Treatment is the ideal option for eligible patients and how Phoenix CyberKnife and Radiation Oncology Center can benefit you in your cancer treatment process.