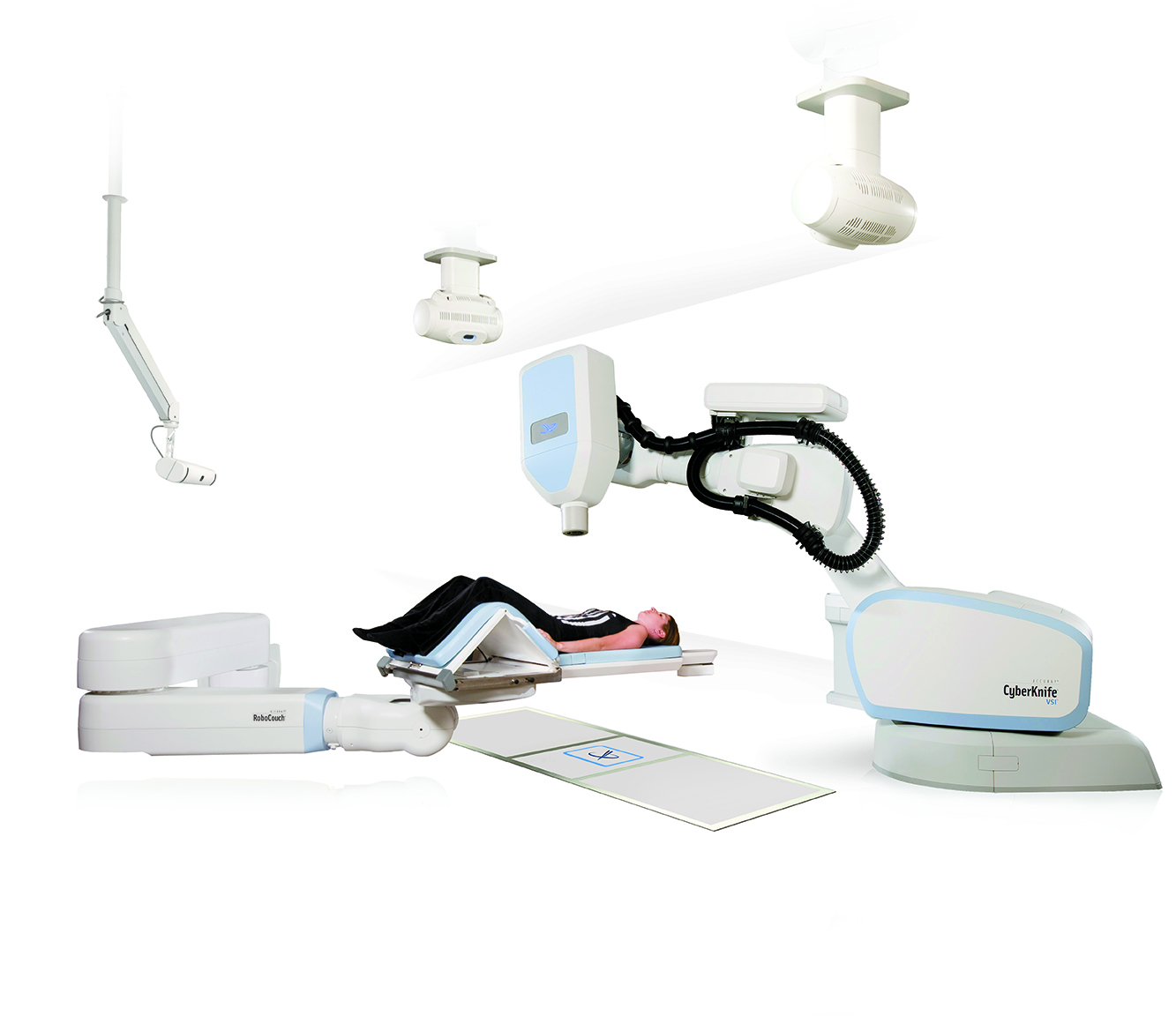 What is the CyberKnife® System?
The Phoenix CyberKnife and Radiation Oncology Center is setting a new standard in cancer care with use of the advanced CyberKnife System. Led by a team of internationally recognized and board-certified radiation oncologists, we are able to effectively treat cancer with a combination of advanced technology and clinical experience.
The CyberKnife System offers a non-invasive option for cancer treatment, and is often used in conjunction with other treatments to provide our patients with the best options available for their cancer care.
So why do they call it CyberKnife? The CyberKnife System does not use a knife, but rather uses highly-targeted radiation delivery to treat cancerous tumors and malignant cells without actually having to cut anything. Utilizing advanced tumor-tracking technology and real-time imaging, the CyberKnife System is able to track cancerous cells during treatment, allowing for the most accurate delivery of radiation while avoiding surrounding tissues and organs.
The CyberKnife System is classified as a stereotactic radiosurgery (SRS) treatment, also known as stereotactic body radiotherapy (SBRT) or stereotactic ablative body radiotherapy (SABR). Unlike traditional stereotactic radiosurgery, the CyberKnife System is not bound to limited angles of delivery, but rather it is able to deliver treatment from virtually any angle because of its advanced robotic arm.
And because CyberKnife treatments are non-invasive, they can be performed in our comfortable outpatient treatment center. Most patients complete their treatment in one to five sessions which take place over the course of one week. Because of this, they also experience minimal side effects and can generally return to normal activities almost immediately.
What makes the CyberKnife System so unique?
Precision treatment
The precision offered by the CyberKnife System sets it apart from all other radiation therapy solutions. With a robotic architecture, the CyberKnife System can bend and move around the patient, approaching the tumor from hundreds of unique angles. This flexibility enables radiation beams to be sculpted to target only the tumor, avoiding nearby organs and healthy tissue.
The CyberKnife System also addresses the challenges of patients and tumors moving, even slightly, during the treatment process. Using advanced technologies to track tumors throughout the treatment process, and adjusting to ensure accurate delivery of radiation, the CyberKnife System can compensate for patient and tumor movement, and eliminates the need to use invasive head or body frames and other techniques to prevent movement that are uncomfortable for patients. With its Synchrony® Respiratory Tracking System, the CyberKnife System is the only clinically proven system to use continual image guidance to synchronize the movement of the radiation beam with the movement of the tumor while the patient lays comfortably in a body cradle on the treatment table and breathes normally.
This precision makes it possible for the CyberKnife to treat even the most complex cases.
Patient comfort
CyberKnife treatments are noninvasive and pain free, requiring no anesthesia or overnight hospital stays. With the precision delivery of high doses of radiation, the CyberKnife System eliminates the need for invasive head or body frames, and in many cases, the insertion of fiducials. Additionally, by sparring surrounding healthy tissue and organs, the CyberKnife System minimizes side effects, enabling patients to resume normal activities after treatment.
The CyberKnife System is an alternative for patients, including those diagnosed with previously inoperable or surgically complex tumors, or for those who are looking for an alternative to surgery, convention radiation therapy or chemotherapy. CyberKnife treatments can be done in conjunction with other types of cancer treatment as well, and be used for patients who have been treated with radiation in the past.
What types of cancer does the CyberKnife System treat?
The CyberKnife System is extremely flexible and can address a variety of tumors and diseases throughout the body, including:
Lung, Liver, Pancreas, and Kidney
Managing respiratory motion presents one of the most significant challenges in the delivery of radiation treatment, particularly for cancers of the lung, liver, pancreas and kidney. Tumors in the chest and abdomen can move as much as two inches with every breath. The CyberKnife System, using its Synchrony Respiratory Tracking System, intelligently tracks respiratory motion in real-time and automatically adapts to changes in the patient's breathing pattern. Since the radiation beam adjusts with the motion of the tumor throughout the respiratory cycle, there is no need for special breath-holding techniques or compression devices. The patient can remain comfortable and breathe normally.
Lung Tumor Movement
Prostate
Safely and accurately delivering radiation to the prostate presents a challenge for any external beam radiation delivery system because the prostate moves involuntarily as a result of bowel, stomach and bladder pressure. The CyberKnife System combines continual image guidance to automatically adapt delivery of radiation accurately to the tumor in real time. By supporting a full spectrum of fractionation schemes, the flexibility of the CyberKnife System determines the optimal course of treatment for each patient.
Brain, Head & Neck, and Spine
The CyberKnife System is a frameless radiation delivery system. With other technologies, immobilization devices, such as a frame bolted to the patient's skull, are used to prevent movement. The CyberKnife System is designed to automatically adjust for even the slightest movements of the patient or tumor, and therefore does not require a frame.
Recurrent Tumors
The accuracy of the CyberKnife System makes it a viable treatment option for patients whose tumors have returned after having radiation therapy in the past.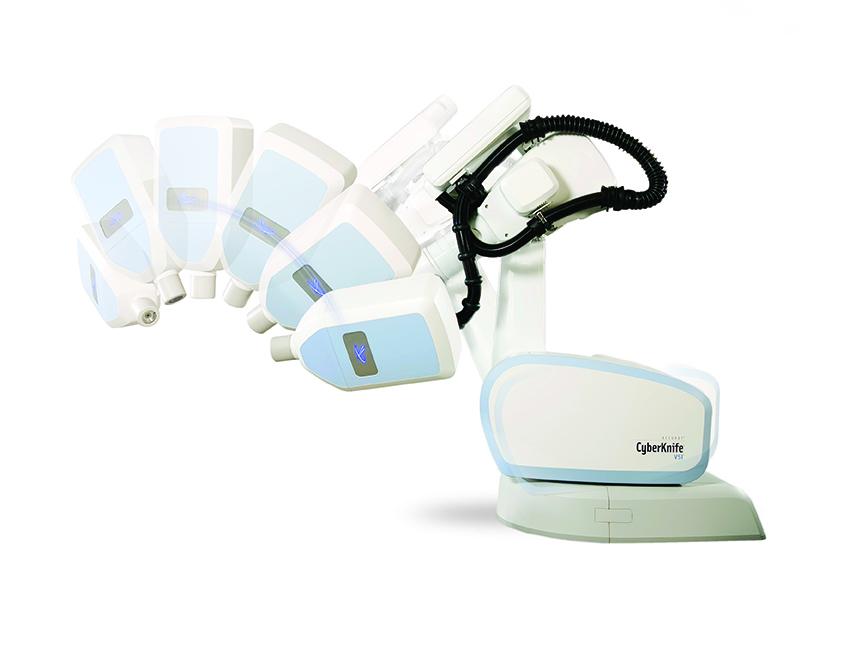 What is the CyberKnife Treatment Process?
There are general steps in the CyberKnife treatment process:
1. Scanning – Prior to treatment, a patient will undergo imaging procedures to determine the size, shape and location of the tumor. The process begins with a standard high-resolution CT scan, or for certain tumors other imaging techniques, such as MRI, angiography or PET may also be used.
2. Planning – The CyberKnife System's treatment planning workstation identifies the exact size, shape and location of the tumor. Sophisticated software generates a treatment plan designed to provide the desired radiation dose to the tumor location while minimizing the impact on the surrounding healthy tissue.
3. Treatment – As a patient lies comfortably on a treatment table, he or she is automatically positioned for treatment delivery. Anesthesia in not required, as the procedure is painless and non-invasive. The treatment generally lasts between 15 and 45 minutes and is completed in one to five visits.
4. Follow-up – During the months following treatment, assessment the tumor's response to treatment is generally performed with a combination of CT, MRI and/or PET scanning, done in coordination of evaluation with the referring physicians.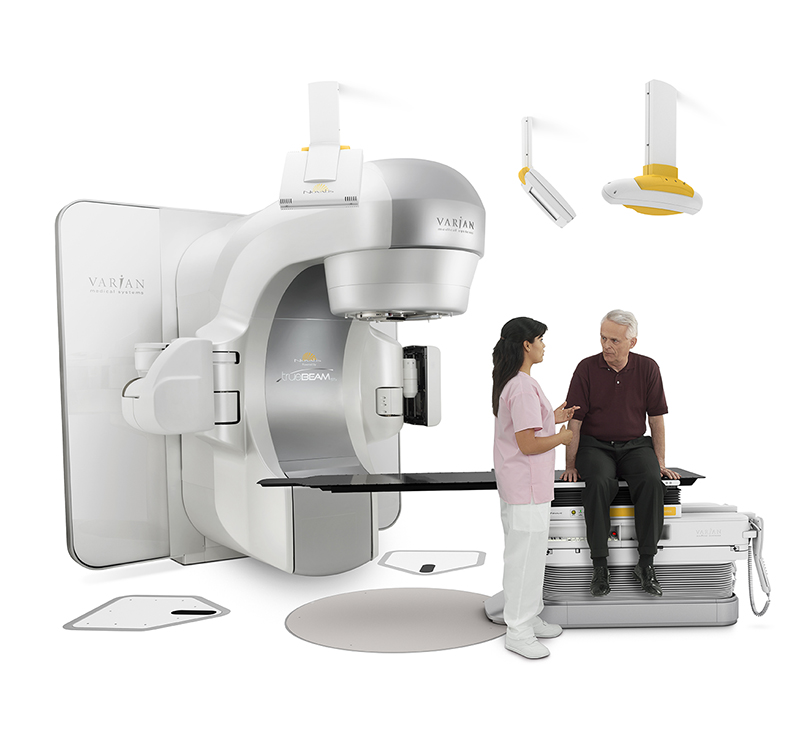 TrueBeam STx with Novalis Radiosurgery
The Phoenix CyberKnife and Radiation Oncology Center is on the forefront of cancer treatment with TrueBeamTM STx with Novalis® Radiosurgery from Varian Medical Systems and Brainlab.
With this new technology, our center enables a radical new approach that expands radiosurgery treatment options for even the most challenging cases.
The TrueBeam™ STx with Novalis® is a promising development for cancer patients in Arizona and beyond, offering a radically new approach to treating cancer with image-guided radiation delivery.
Designed from the start to perform sophisticated radiosurgery procedures with pinpoint accuracy and fine precision, the TrueBeam STx with Novalis Radiosurgery choreographs highly sophisticated systems—imaging, beam delivery and motion management. Doing so, makes it possible to deliver treatments quickly, while monitoring and compensating for tumor motion. With it, we can more quickly and accurately target tumors in challenging cancers throughout the body, including those in the brain, lung, breast, colon, pancreas, liver, and others throughout the body.
Fast, Precise Treatments
The TrueBeam STx with Novalis Radiosurgery system can deliver treatments at twice the output of most other systems – 2.4 to 4 times faster with a dose delivery rate of up to 2,400 monitor units per minute. Faster treatments, such as the ones we offer, result in less tumor and patient movement, according to independent studies.
"Intelligent" automation further speeds treatments with an up to five-fold reduction in the number of steps needed for imaging, positioning and treating patients compared with earlier Varian technology. A complex radiosurgery that would typically require 30 to 60 minutes can now be completed in just 5 to 20 minutes.
Fast Imaging at Lower Doses
The machine's imager can generate 3-D images of the tumor and surrounding anatomy 60 percent faster than was possible with previous Varian technology. In addition, images can be generated using 25 percent less X-ray dose. These images are used to fine-tune a patient's position prior to, and during, the treatment process.
TrueBeam STx with Novalis Radiosurgery can be used for many forms of advanced treatments—including stereotactic body radiotherapy (SBRT), stereotactic ablative body radiotherapy (SABR), stereotactic radiosurgery (SRS), 3D conformal radiation therapy (CRT), volumetric modulated arc therapy (VMAT), intensity-modulated radiation therapy (IMRT) and image-guided radiation therapy (IGRT) —giving our doctors different approaches to tailor treatments specifically to our patients needs. These radiation therapy options are all delivered with precision and speed, resulting in better patient outcomes, improve patient comfort and no compromise in quality of life.
Treating Tumors That Move
Advanced imaging technology enables clinicians to deliver treatment more accurately by actually "seeing" the tumor they treat and targeting them with submillimeter accuracy. Doing so, helps protect nearby healthy tissue and critical organs. Other motion management tools synchronize beam delivery with the tumor motion that occurs as the patient breathes. The new Gated RapidArc capability makes it possible to compensate for respiratory motion during a RapidArc® radiotherapy technology treatment. This approach is faster than conventional IGRT because it is delivered with just one or several continuous rotations around the patient.
Improving the Patient Experience
Features of the TrueBeam STx with Novalis Radiosurgery are designed to improve the patient experience. The machine's mechanisms run smoothly, quietly and fast. Three closed-circuit television systems and a two-way audio system enable comprehensive monitoring of the patient from outside the treatment room and facilitate interactions between patient and therapist. In addition, music may be played during the short treatments, helping to create a more soothing treatment environment.
HDR Brachytherapy
At the Phoenix CyberKnife and Radiation Oncology Center, we offer a wide range of treatments to provide our patients with the best possible cancer care. One of the treatments offered is HDR brachytherapy, which treats cancer by placing radioactive sources directly into or next to the area requiring treatment. This procedure enables our clinicians to deliver a high dose of radiation with minimal impact on surrounding healthy tissues.
HDR brachytherapy has proven to be a highly successful treatment for cancers of the head and neck, skin, breast, bronchus, esophagus, cervix, endometrium, prostate, as well as soft tissue sarcomas.
During HDR brachytherapy, tiny radioactive pellets are delivered directly to tumor sites via thin plastic tubes called catheters. HDR brachytherapy is a much shorter procedure (days vs. weeks) and is delivered over multiple treatments sessions each lasting just a few minutes. And, patients are not radioactive following the procedure.
HDR brachytherapy offers patients several benefits:
Highly targeted treatment conforms to the shape of the tumor, enabling high doses of radiation to be delivered directly to the tumor, while minimizing impact of radiation on healthy surrounding organs and tissue.
The ability to deliver a higher dose delivery to the tumor can lead to improved treatment effectiveness.
Shorter treatment times: For breast cancer, there is a potential to reduce from more than five weeks to five days; and for prostate cancer, reduce treatment from more than 8 weeks to just one day, while avoiding prostatectomy.
Alternative treatment option for challenging lung and esophagus cancers that might otherwise not be treatable with other types of treatments.
Simplified palliative treatment option for certain cases.
Curative treatment option for skin cancers, particularly on the face, which avoids cosmetic and functional defects resulting from surgery.